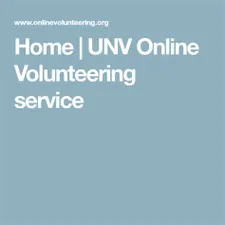 Closing date: Friday, 17 March 2023
General
Description of assignment title
Translation Support for Emergency Related Documents from English to Turkish and Arabic
Assignment country
Türkiye
Expected start date
Invalid Date
Sustainable Development Goal
17. Partnerships for the goals
For how many hours per week will the volunteer be required?
11 – 15
Host entity
UNV Online Volunteering Service
Type
Online
Duration
1 weeks
Number of assignments
2
Details
Mission and objectives
The United Nations Volunteers (UNV) programme contributes to peace and development through volunteerism worldwide. We work with partners to integrate qualified, highly motivated and well supported UN Volunteers into development programming and promote the value and global recognition of volunteerism. UNV's Online Volunteering service was launched in the year 2000 and allows organizations and volunteers to team up to address sustainable development challenges – anywhere in the world, from any device. Online volunteering is simple, universal – and most of all, effective. Since then it has enabled thousands of organizations worldwide to receive volunteer support over the Internet, and hundreds of thousands of Online Volunteers to utilize their skills, expertise and experience to support their efforts. UNV's Online Volunteering offers: – A global platform for organizations and Online Volunteers to connect – An easy-search database of Online Volunteer assignments – Access to online volunteering experiences, best practices and lessons learned – Tools to manage volunteers' and organizations' online collaboration – The possibility for volunteers and organizations to expand their networks – The advantage of the universal reach and impartiality of the United Nations
Context
With this task, UNV Online Volunteering Service Team is aiming to increase accessibility and wider spread the offer to potential partners. Selected online volunteers will have a chance to contribute to the emergency response activities for Turkiye and Syria in the aftermath of earthquake, providing communication materials' translation in local languages.
Task description
We are looking for 2 online volunteers to support the UNV Online Volunteering Service Team in translating a PowerPoint presentation (18 slides) and a flyer (approximately 600 words) about Online Volunteering Programme offer in the scope of emergencies which will be used in communication with partner Civil Society Organizations, UN agencies and public institutions. One online volunteer will be requested to translate the materials from English to Turkish, while the other volunteer will be requested to translate from English to Arabic.
Requirements
Required experience
Fluency in English and either Turkish or Arabic Previous translation experience preferred
Languages
English, Level: Fluent, Required Turkish, Level: Fluent, Required Arabic, Level: Fluent, Required
Other information
Inclusivity statement
United Nations Volunteers is an equal opportunity programme that welcomes applications from qualified professionals. We are committed to achieving diversity in terms of gender, care protected characteristics. As part of their adherence to the values of UNV, all UN Volunteers commit themselves to combat any form of discrimination, and to promoting respect for human rights and individual dignity, without distinction of a person's race, sex, gender identity, religion, nationality, ethnic origin, sexual orientation, disability, pregnancy, age, language, social origin or other status.