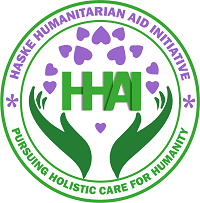 HASKE HUMANITARIAN AID INITIATIVE (HHAI) is a women and youth driven organization established in the year 2022, and since its establishment to date, the organization has striven to continuously interface and engage with key stakeholders at all level to support in addressing gaps in the health sector, improve nutrition indices, and women's agency, health, and socio-economic empowerment from the grassroot level which will provide an enabling environment and a robust healthy community. We strive for positive change in the way the community response to the health and socio-economic wellbeing of women, young adolescents, and children under 5 and to achieve an immediate and lasting change in their lives by providing the enabling environment. Across all our work, we pursue several core values: Honesty. Accountability, ambition, professionalism,
Job Title: Procurement and Logistics Officer Project
Location: Adamawa and Bauchi state
Slot: 1
Application Deadline: 14th November, 2022
JOB DESCRIPTION
Managing inventories and maintaining accurate purchase and pricing records.
Ensuring that procurement is carried out in accordance to organizational and donor-specific policies.
Coordinating with finance, Admin, and program department to ensure integrated internal controls, timely payment of vendors, and full auditable supporting documents.
Ensuring that a transparent and responsive procurement process is implemented and maintained.
Work closely with the Program officer to process PRs, and raise RFQs, PO's, and Contracts as per SOPs.
Routine communication, coordination, and planning with the relevant requesting staff/programs regarding the order and delivery of supplies.
Establishment and maintenance of the ethical professional working relationship with suppliers.
Maintain list of regularly purchased items and be informed of current local market conditions and ensure adequate documentation is maintained.
Maintaining and updating supplier information such as qualifications, delivery times, product ranges, etc.
Support and provide the appropriate training for procurement and program staff as required
The tasks and responsibilities defined in this job description are non-exhaustive and can evolve depending on the project's needs. The employee could be requested to perform other tasks as his/her line manager may judge necessary.
REQUIREMENTS:
Candidates should possess a Bachelor's Degree qualification in management science or any related field with at least 2 years working experience
METHOD OF APPLICATION
Interested and qualified candidates should send : <Click  https://bit.ly/3FOQfjK  to apply online> OR send their CV and Cover Letter as a single PDF document to [email protected] using the job Title as the subject of the mail.
NOTE:
HHAI is an equal opportunity employer, committed to diversity as such,
women are strongly encouraged to apply
Please note that only shortlisted candidate will be contacted