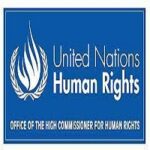 Closing date: Wednesday, 17 May 2023
General
Description of assignment title: Legal and Monitoring Volunteer
Assignment country: Kyrgyzstan
Expected start date: 06/01/2023
Sustainable Development Goal: 16. Peace, justice and strong institutions
Volunteer category: National UN Youth Volunteer
DoA reserved for persons with disabilities: No
Host entity: OHCHR
Type: Onsite
Duration: 12 months (with possibility of extension)
Number of assignments: 1
Duty stations: Osh
Details
Mission and objectives
The Office of the High Commissioner for Human Rights (OHCHR) is the lead UN entity on human rights. In 1993, the General Assembly entrusted both the High Commissioner for Human Rights and OHCHR with a unique mandate to promote and protect all human rights for all people. Over the course of subsequent decades, with investment by Member States, OHCHR has developed unique competencies for the protection and advance of human rights; competencies that bridge the humanitarian, peace and development sectors. OHCHR provides technical expertise and capacity-development, to support the implementa-tion of international human rights standards on the ground. It assists governments, which bear primary responsibility for the protection of human rights, to fulfil their obligations, supports individuals to claim their rights and speaks out objectively on human rights viola-tions. OHCHR has built global credibility in being a principled advocate for international human rights standards. It represents the leading, authoritative voice on legally binding norms en-shrined in international human rights treaties including in situations of conflict and insecuri-ty. OHCHR is uniquely placed in working closely with Governments, the civil society, the UN family and other stakeholders to advance the human rights agenda. Our strength lies in our unique capability to monitor, critically analyse and report on human rights abuses/violations.
Context
The Office of the High Commissioner for Human Rights (OHCHR) has established its Regional Office for Central Asia (ROCA) in Bishkek in 2008. ROCA works to assist governments, national hu-man rights institutions, civil society and the international community in the region to promote and protect human rights.
Task description
Under the supervision of the OHCHR Regional Representative for Central Asia, the National UN Volunteer/Legal and Monitoring Specialist (hereinafter: NUNV) will be responsible for conducting legal analysis (including but not limited to of criminal justice legal provisions), monitoring of emblematic human rights cases (including but not limited through trial observation, liaison with civil society partners, lawyers, national human rights institutions), support in dealing with incoming individual complaints, and media monitoring (including social media). The NUNV may also be required to assist in the implementation of ROCA programmes and projects. The NUNV is guided by and promotes a client, quality and results-oriented approach. The NUNV's delegated tasks include:
 Monitoring and reporting on relevant human rights issues, including their impact on the human rights situation in the region, in person and through media monitoring (including social media).
 Human rights monitoring, in person and/or by remote, including of emblematic human rights cases, in close coordination with national human rights institutions, civil society partners, lawyers, other stakeholders.
 Dealing with incoming individual complaints, including but not limited to by maintaining a database, drafting replies, meeting with applicants as delegated.
 Legal analysis, including of the implementation of criminal justice provisions.
 Assisting in planning, designing and implementing capacity-building and other activities in the region;
 Perform other duties as required. Furthermore, UN Volunteers are encouraged to integrate the UN Volunteers programme mandate within their assignment and promote voluntary action through engagement with communities in the course of their work. As such, UN Volunteers should dedicate a part of their working time to some of the following suggested activities: Strengthen their knowledge and understanding of the concept of volunteerism by reading relevant UNV and external publications and take active part in UNV activities (for instance in events that mark International Volunteer Day); Be acquainted with and build on traditional and/or local forms of volunteerism in the host country; Provide annual and end of assignment self-reports on UN Volunteer actions, results and opportunities. Contribute articles/write-ups on field experiences and submit them for UNV publications/websites, newsletters, press releases, etc.; Assist with the UNV Buddy Programme for newly-arrived UN Volunteers; Promote or advise local groups in the use of online volunteering or encourage relevant local individuals and organizations to use the UNV Online Volunteering service whenever technically possible. Results/expected outputs: Research and analysis on human rights issues, including through regular reporting, as well as legal analysis upon request. Well organized and maintained human rights database, and coherent, efficient, and traceable filing of incoming complaints and recommendations for action. Planned, designed and implemented capacity building activities. A final statement of achievements towards volunteerism for development during the assignment, such as reporting on the number of volunteers mobilized, activities participated in and capacities developed.
Eligibility criteria
Age: 18 – 26
Nationality
Candidate must be a national or legal resident of the country of assignment.
Requirements
Required experience
1 years of experience in relevant work experience. Some knowledge of the national legislation of the Kyrgyz Republic, in particular related to criminal justice required. Knowledge of human rights and rule of law issues in Kyrgyzstan required. Maturity, excellent inter-personal, and negotiation skills required. Ability to work under pressure, delivering on tight deadlines and to handle multiple tasks. Desirable: Experience in running case management systems/data bases. Experience in monitoring and documenting human rights violations. Training in human rights and the UN human rights system, including Human Rights Mechanisms. Excellent computer skills, including Excel and Data Base management, and use of legal databases. Language Skills Fluency in Russian required Working level in English required Knowledge of Kyrgyz, Uzbek, Tajik languages considered as an asset; Ability to draft coherent high-quality written material required.
Area(s) of expertise
Legal affairs
Driving license
–
Languages
Russian, Level: Fluent, Required English, Level: Working knowledge, Required
Required education level
Bachelor degree or equivalent in Law or other related areas with up to two years of a relevant related experience.
Competencies and values
Professionalism Integrity Teamwork and respect for diversity Commitment to continuous learning Communication Flexibility Genuine commitment towards the principles of voluntary engagement, which includes solidarity, compassion, reciprocity and self-reliance, and commitment towards Office of the UN High Commissioner for Human Rights mission and vision, as well as to the UN Core Values.
Other information
Living conditions and remarks
Osh is the second largest city in Kyrgyzstan. Osh, is administrative centre of the southwestern Kyrgyzstan and capital of the Osh province, near the border with Uzbekistan. Osh is located in heart of the historically famous Ferghana valley. As this is a national UN Volunteer assignment, the UN Volunteer will be responsible for arranging his/her own housing and other living essentials. National UN Volunteers are covered by the CIGNA insurance plan. Kyrgyzstan is a unique country. It provides for an interesting and enriching environment. It is considered as one of the open country in Central Asia and this fact makes a big sense for development work. The culture of Kyrgyzstan is heavily influenced by the traditions from nomadic life. Kyrgyz culture features influences from Russia, Persia, and Turkey, but yet remains something entirely unique. Nature influences are prominent, from the designs to the music, and many traditions reflect the fact that nomads lived closely with nature. National UN Youth Volunteers in Psh receive USD 683/month as a Volunteer Living Allowance. Other benefits include:
 Entry lump sum – USD 400
 Relocation costs – $200 at beginning and end of assignment if duty station is outside of commuting distance (as determined by UNV)
 Learning – Access to UNV's learning and career development resources and participation in an assignment preparation training provided by UNV
 Annual leave – 2.5 days per month
 Insurance – Comprehensive coverage for health, life and malicious acts for the UN Volunteer and health insurance coverage for up to 3 eligible dependents . See the Conditions of Service for more details on eligibility criteria.
 Exit allowance (paid on successful completion of the assignment) USD 71.23 for each month served, paid on completion of contract. Please see UNV Conditions of Service for more information.
Inclusivity statement
United Nations Volunteers is an equal opportunity programme that welcomes applications from qualified professionals. We are committed to achieving diversity in terms of gender, care protected characteristics. As part of their adherence to the values of UNV, all UN Volunteers commit themselves to combat any form of discrimination, and to promoting respect for human rights and individual dignity, without distinction of a person's race, sex, gender identity, religion, nationality, ethnic origin, sexual orientation, disability, pregnancy, age, language, social origin or other status.
Note on Covid-19 vaccination requirements
Selected candidates for certain occupational groups may be subject to inoculation (vaccination) requirements, including against SARS-CoV-2 (Covid-19) in line with the applicable host entity policy