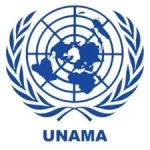 Closing date: Tuesday, 21 March 2023
General
Description of assignment title: Associate Political Affairs Officer
Assignment country: Afghanistan
Expected start date: 04/02/2023
Sustainable Development Goal: 16. Peace, justice and strong institutions
Volunteer category: National UN Volunteer Specialist
DoA reserved for persons with disabilities: No
Host entity: UNAMA
Type: Onsite
Duration: 9 months
Number of assignments: 1
Duty stations: Jalalabad
Details
Mission and objectives
UNAMA was established in 2002 as a Political/ Peacebuilding Mission, exceptionally) directed and supported by the UN Department of Peacekeeping Operations (DPKO).
Context
UNAMA's field presence remains central to the Mission's engagement with its stakeholders at the sub-national level in Afghanistan. The field presence enables the Mission to deliver its mandate and maintain its awareness of related developments throughout the country. The Mission currently maintains six regional offices, in Balkh (Mazar-e-Sharif), Herat, Kabul, Kandahar, Nangarhar (Jalalabad) and Paktya (Gardez); and five provincial offices, in Badakhshan (Fayz Abad), Baghlan (Pul-e Khumri), Bamyan, Faryab (Maymana) and Kunduz. Field offices have a direct reporting line to the Chief of Staff. The Jalalabad Field Office shall continue to support mandate implementation at the sub-national level through building effective working relationships with the de facto authorities to facilitate an enabling environment for mandate/programme implementation, strengthening cooperation for and the coherence of UN activities; support the provision of essential services to Afghans; support dialogue between the de facto authorities and local stakeholders on issues of sub-national governance, basic rights and inclusion; provide outreach and good offices, including facilitating dialogue between political stakeholders, focusing on promoting inclusive, representative, participatory and responsive governance and broad participation in public life; and provide advice on local consultative mechanisms, confidence-building measures, capacity building, and conflict management and reconciliation. The FO shall also maintain situational awareness, reporting and analysis and engage with all stakeholders at the sub-national level in the protection and promotion of human rights.
Task description
Under the direct supervision of the Head of Office and the Political Affairs Team Leader, the National UN Volunteer will:
 Collect, select and analyze information from diverse sources, including publications and the media, with special attention to the representation of all segments of society including vulnerable categories like minorities and women;
 Support the monitoring of national, provincial and district level political developments and keep abreast of latest trends and developments in the area of assignment in accordance with the priorities established by the mission;
 Coordinate to maintain up to date knowledge of events relating to political issues in general, and in particular areas of responsibility as well as thematic mandates;
 Assisting in the development of project proposals to be implemented by the FO in accordance with the priorities established by the mission;
 Facilitate in maintaining contacts with regional/local civil and government officials/structures; community leaders; political parties and civil society representatives including new key actors and stakeholders from vulnerable and less visible groups, including youth and women, in areas of responsibility;
 Assisting in preparing reports, ad hoc analysis, and regular reporting materials to be disseminated with the Head of Office and/or HQ;
 Support the Office's provision of good offices in line with the mandate;
 Interpret from English into Pashto/Dari and vice-versa during meetings; Translate documents from English into Pashto/Dari as necessary;
 Support visiting teams/missions as required;
 Participate in periodic field missions in order to update the overall political situation;
 Provide administrative and logistical support to officers in the Political Affairs Division; including arrangements for meetings, preparing documents etc.
 Support field trips including preparation of road mission requests and arrange for security clearances;
 Maintain administrative files and official records; updating of regular and ad hoc field office reports and maintenance of archiving documents on the One Drive and other relevant UNAMA databases.
Eligibility criteria
Age: 27 – 80
Nationality
Candidate must be a national or legal resident of the country of assignment.
Requirements
Required experience
3 years of experience in
 At least 2 years of professional work experience at the national and/or international level in I/NGO, Humanitarian sector, Public institutions or in any organization on a related topic; experience with translation, project management, networking or interacting with local officials is an asset, as is experience working in the UN or other international development organization;
 University degree in a relevant area, e.g. Public Administration, Political Sciences, International relations, Law, History, Sociology or area related to Humanities; a first-level university degree or equivalent in combination with relevant training and/or professional experience may be accepted in lieu of an advanced university degree;
Area(s) of expertise
Administration, Community development, Translation and interpretation
Driving license
–
Languages
English, Level: Fluent, Required Dari, Level: Fluent, Required Pashto, Level: Fluent, Desirable
Required education level
Bachelor degree or equivalent in Political affairs, governance, development and humanitarian affairs.
Competencies and values
 Accountability
 Adaptability and flexibility
 Creativity
 Judgement and decision-making
 Planning and organising
 Professionalism
 Self-management
Other information
Living conditions and remarks
The contract lasts for the period indicated above with possibility of extensions subject to availability of funding, operational necessity and satisfactory performance. However, there is no expectation of renewal of the assignment. Travel to duty station (if applicable) and a Settling-In-Grant will be provided in the event the duty station is not within commuting distance from the place of recruitment. The applicable Volunteer Living Allowance is provided monthly to cover housing, utilities and normal cost of living expenses. Life, health and permanent disability insurance are included ) and final repatriation (if applicable). Furthermore, in non-family duty stations that belong to hardship categories D or E, as classified by the ICSC, a Well-Being Differential (WBD) will be provided on a monthly basis.
Inclusivity statement
United Nations Volunteers is an equal opportunity programme that welcomes applications from qualified professionals. We are committed to achieving diversity in terms of gender, care protected characteristics. As part of their adherence to the values of UNV, all UN Volunteers commit themselves to combat any form of discrimination, and to promoting respect for human rights and individual dignity, without distinction of a person's race, sex, gender identity, religion, nationality, ethnic origin, sexual orientation, disability, pregnancy, age, language, social origin or other status.
Note on Covid-19 vaccination requirements