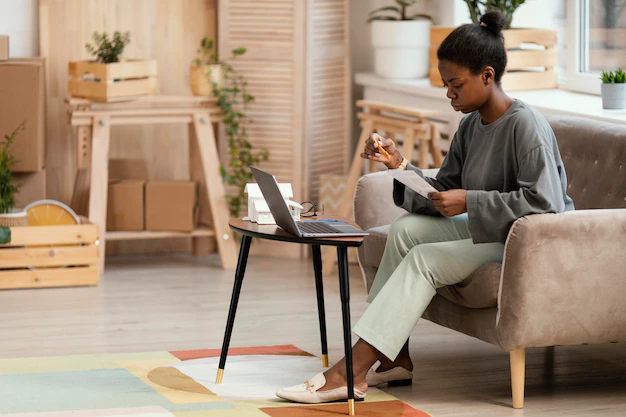 With the rise of technology and the internet, work-from-home jobs have become increasingly popular in Nigeria. Work-from-home jobs offer flexibility, convenience, and the opportunity to earn an income without leaving your home.
There are many types of work from home jobs available in Nigeria, ranging from online tutoring and virtual assistant roles to freelance writing and graphic design.
One of the benefits of work-from-home jobs is that they can be done from anywhere, as long as you have access to a computer and a reliable internet connection. This makes them ideal for individuals who live in remote areas or have other commitments that prevent them from working in a traditional office environment.
Additionally, work-from-home jobs can be a great way to supplement your income or start a new career without the need for significant upfront investment or qualifications. With the right skills and a good work ethic, anyone can succeed in a work-from-home job in Nigeria.
In this article, we will explore some of the top work-from-home job opportunities in Nigeria and the skills and qualifications required to succeed in them. We will also provide tips on how to find and apply for work-from-home jobs in Nigeria.
1. Online Tutoring and Teaching
Online tutoring and teaching are one of the best ways to work from home in Nigeria. With the rise of the internet and technology, more people are turning to online teaching as a way to make a living. With the right qualifications and skills, you can make a great living working from the comfort of your own home.
To become an online tutor or teacher in Nigeria, you will need to have some form of formal education or training in the subject matter you want to teach. Depending on the type of course or program you are offering, there may also be additional qualifications or certifications required.
Once you have the required qualifications, you can look for opportunities to teach or tutor students in Nigeria.
There are several websites where you can find students interested in your services, including TutorOwl, TutorMe, and others. Many of these sites will also allow you to set your rates for tutoring services.
If you don't want to offer services through online platforms, you can also look into offering private tutoring sessions or classes. This is a great way to connect with local students and help them reach their educational goals.
You will need to advertise your services through local newspapers, websites, or social media accounts to get the word out about your services.
No matter which routes you choose to pursue, working from home as a tutor or teacher in Nigeria can be a rewarding and lucrative career path. With the right qualifications and dedication, you can easily find students willing to pay for your services.
2. Virtual Assistant Roles
Virtual assistant roles are becoming increasingly popular in Nigeria, as they offer an opportunity to work from the comfort of one's own home and provide a wide range of services from a remote location. Virtual assistants (VAs) are typically employed to help individuals or businesses with administrative tasks such as managing email accounts, scheduling meetings, answering customer inquiries, researching topics, or writing blog posts.
For someone interested in virtual assistant work, it is important to understand that this type of role requires good organizational skills, excellent communication abilities, and the ability to multitask. If you possess these skills and feel that virtual assistant work is something you would like to pursue, you should begin by researching the different types of services that can be offered. Many VAs specialize in a certain niche such as bookkeeping, customer service, transcription services, or web design.
In addition to having the necessary skills, it is also important to have a reliable internet connection, as many virtual assistant roles involve working with clients in different time zones. You should also be able to demonstrate proficiency with certain software programs such as Microsoft Office Suite or Adobe Creative Cloud.
Once you have decided on the type of services you will be offering, you should begin searching for potential clients. Networking with local business owners or entrepreneurs is a great way to get started. Additionally, there are several online job boards and websites dedicated to connecting virtual assistants with employers.
Lastly, it is important to create a professional profile on sites such as Upwork and Fiverr that showcases your skills and experience to attract clients. By taking the time to do this research and preparation, you can make sure that you are providing quality services to your clients and becoming successful in the virtual assistant industry.
3. Social Media Management and Marketing
Social media management and marketing have become increasingly popular as a way to make money from home in Nigeria. Social media platforms like Facebook, Instagram, Twitter, and LinkedIn have become an integral part of the online presence of many businesses and individuals.
Companies often require professionals with the skills and experience to manage their social media accounts and optimize their marketing campaigns.
There are many roles available for people who wish to work from home in Nigeria doing social media management and marketing.
A few of the most common roles include creating and posting content, interacting with customers, responding to comments, building relationships with influencers, creating ads, and analyzing data.
Many companies will also hire people to create and manage their social media campaigns, which can involve developing strategies, setting goals, and measuring results.
To find work-from-home jobs in Nigeria doing social media management and marketing, you can look for postings on job boards or contact digital marketing agencies directly. Additionally, you can create a profile on freelance sites such as Fiverr, Upwork, or People Per Hour to showcase your skills and attract potential employers.
READ ALSO- Application For Canadian Jobs from Nigeria
4. Content creation and writing
Content creation and writing is a great ways to make money from home in Nigeria. The demand for content writers has grown significantly, as businesses and entrepreneurs look for ways to attract attention online. With the right skills and knowledge, you can make a good income by creating and writing content for clients.
When it comes to content creation, there are many types of projects you can take on. This can include anything from blog posts to website copy, articles, social media content, e-books, white papers, press releases, and much more. You can even specialize in a particular type of content and offer yourself as an expert in that area.
To become a successful content writer, you'll need to have an excellent command of the English language, be creative, and have strong research skills. You'll also need to be able to write in different formats and tailor your writing style to different audiences. It's important to keep up with trends in the industry as well so that you can stay current and deliver fresh ideas.
Finding clients as a content writer isn't always easy. A great way to start is by signing up for platforms like Upwork or Fiverr, which are popular with Nigerian freelancers. You can also try cold-pitching potential clients directly or building relationships with other content creators who may be looking for help.
Overall, content creation and writing can be a great way to make money from home in Nigeria. With the right skills and dedication, you can establish yourself as an authority in the field and build a successful freelance business.