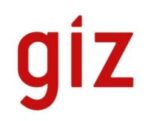 The Deutsche Gesellschaft fur Internationale Zusammenarbeit (GIZ) GmbH (German Agency for International Cooperation) is an international enterprise owned by the German Federal government, operating in many fields across more than 130 countries.
In Nigeria, GIZ's portfolio includes among others, a programme to support the Economic Community of West African States (ECOWAS) in its regional integration goals. The programme aims to strengthen sector-specific capacities in the areas of Peace and Security, Customs and Trade as weir as Strategic Management and Organizational Development in the ECOWAS Commission.
We are recruiting to fill the position below:
Job Title: Technical Advisor
VA No: 072
Location: Abuja
Organization: GIZ Nigeria, CoM SSA Phase III
Background
GIZ. Solutions that work:
As a service provider in the field of international cooperation for sustainable development and international education work, we are dedicated to shaping a future worth living around the world. GIZ has over 50 years of experience in a wide variety of areas, including economic development and employment promotion, energy and the environment, and peace and security.
The diverse expertise of our federal enterprise is in demand around the globe – from the German Government, European Union institutions, the United Nations, the private sector and governments of other countries.
We work with businesses, civil society actors and research institutions, fostering successful interaction between development policy and other policy fields and areas of activity.
Our main commissioning party is the German Federal Ministry for Economic Cooperation and Development (BMZ). The registered offices of GIZ are in Bonn and Eschborn. Our approximately 23,500 employees, almost 70 percent of whom are national personnel, work in a round 120 countries (July 2020) GIZ has worked in Nigeria since 1974. Since 2004, GIZ has maintained a country office in the capital city Abuja. Currently, 464 national and regional employees, 66 international employees, 6 integrated experts, and 3 development advisors are working in the country (June 2022).
Programme
The Covenant of Mayors in Sub-Saharan Africa (CoM SSA) initiative supports Sub-Saharan African cities in their fight against climate change and in their efforts to ensure access to clean energy. Under the CoM SSA, local authorities are invited to make a voluntary political commitment to implement climate and energy actions in their communities, and agree on a long-term vision to tackle access to energy, climate mitigation and climate adaptation.
The support to the CoM SSA initiative in its first phases has been instrumental in setting up a network of over 300 signatory cities Vacancy Announcement_072 and forming a group of early movers.
The support (under CoM SSA Phase III) aims at scaling-up the initiative's impact by enhancing the network of beneficiaries and bridging the gap to finance for local administrations through 3 pillars:

Sustainable Energy and Climate Action Plans (SEACAP) development, integration and monitoring
Support urban sustainable energy and climate related investments
Promoting regional cooperation and enhancing learning from good practice.
Organisational set-up:
The Covenant of Mayors in Sub-Saharan Africa is an initiative cofinanced by the European Commission, the German Federal Ministry for Economic Cooperation and Development (BMZ) and Agencia Española de Cooperación Internacional para el Desarrollo (AECID).
The support to CoM SSA Phase III is implemented by GIZ in cooperation with Agence Française de Développement (AFD), Expertise France (EF) and AECID. GIZ is supporting the implementation of the CoM SSA Phase III in 4 focal countries (Cameroon, Burkina Faso, Kenya, Nigeria).
The main project office is in Brussels, Belgium.
CoM SSA in Nigeria:
The operational objective of GIZ's CoM SSA Phase III activities in Nigeria is to support SEACAP development, capacity building and supporting climate related investments through:

Supporting the process of developing sustainable energy and climate action plans for identified local governments in line with national mandates and CoM SSA guidelines
Providing tailored technical assistance to local administrations to develop bankable projects in the areas of climate mitigation, adaptation and energy access
Implementing capacity building measures for local administrations through topical workshops, seminars and trainings on project preparation and financing, SEACAP development, etc.

In Nigeria, local governments (cities, municipal areas, states) sign up to the CoM SSA. SEACAP development work is being implemented by our partner ICLEI Africa for the Abuja Municipal Area Council (AMAC).
We are currently supported by the GIZ Project Development Programme for the technical and economic assessment of relevant urban infrastructure projects.
The Advisor, based in Abuja, will support the day-to-day implementation of the CoM SSA activities in Nigeria. The Advisor will work closely with the other CoM SSA technical advisor in the country and shall operate under the supervision of the Team Leader of CoM SSA III with close coordination with the GIZ Nigeria Energy cluster team and the responsible country manager in the CoM SSA team in Brussels.
Responsibilities
The advisor will coordinate and support the implementation of all relevant activities in Nigeria along the 3 pillars of action. This entails tasks such as:
Identifying and assessing infrastructure projects on their economic viability and documenting them so that they can be presented to potential investors, financiers and partners.
Reviewing and providing technical inputs on areas relevant to the project such as energy/climate planning, or developing infrastructure projects for financing
Independent field visits to local administrations and projects in Abuja and possibly in different regions in Nigeria in accordance with the requirements of the project
Organizing measures for tailor-made capacity development and peer exchange of experience between partner cities, with the aim to build adequate local institutional structures and policy frameworks for financing in the context of CoM SSA
Support the identification of data sources, local consultants, potential partners for collaboration, programs or funding options through research and, where possible, through interviews and networking.
Compiling information about CoM SSA projects, including activities and their results, and knowledge transfer through reports and presentation materials
Maintaining appropriate contact and good working relationships with stakeholders relevant for the CoM SSA activities (this could include national ministries, CSOs, project developers, financiers, etc.)
Support the establishment and logistical preparations of mission programs and organise meetings with partners in the country in close coordination with the consultants and / or country managers of GIZ.
Selection, steering and professional backstopping of national (and international) consultants as well as quality assurance of the work results in the field of urban sustainable energy and climate related investments.
Required Qualifications, Competencies and Experience
Education:
University Degree in a relevant field (eg. Urban Planning, Engineering, Economics, Finance, Natural or Environmental Sciences, Geography or its equivalent)
Professional Experience:
Significant professional experience (at least 5 years) in advising on urban planning, financing of infrastructure projects and/or climate change and governance issues.
Significant experience in project preparation – for example financing models, studies, planning documents, technical advisory, ideally related to renewable energy/climate change
Significant experience in working with relevant stakeholders in Nigeria such as local administrations, national urban authorities, bilateral and multilateral donors, as well as consultants, academic institutions and civil society actors in the country.
Knowledge of decentralisation and governance at the local and national level, national climate and energy planning and development strategies would be an advantage.
Strong networks in the climate and infrastructure financing ecosystem would be an advantage.
Experience in working with GIZ's processes and instruments would be an advantage
Other Requirements:
Excellent working knowledge of ICT technologies and computer applications such as MS Office
An interdisciplinary mindset, the ability to cooperate and work in a team, a high degree of initiative and a willingness to take responsibility.
Excellent communication, writing and presentation skills in English
Excellent project management skills
Willingness to upskill competences as required by the tasks to be performed – corresponding measures are agreed with management
An interdisciplinary mindset, the ability to cooperate and work in a team, a high degree of initiative and a willingness to take responsibility.
Duty station Abuja, Nigeria. Occasional travels within the country and overseas will be required.
Remuneration
According to GIZ salary scale for Band 4r.
Application Closing Date
12th August, 2022.
Method of Application
Interested and qualified candidates should send their CV and Letter of Motivation as one document with complete contact details to: [email protected] using the Vacancy No. 072 as the subject of the email.
Note
GIZ is an equal opportunities employer committed to diversity. All qualified candidates, regardless of age, sex, ethnicity, race and religion are encouraged to apply.
Please note that only shortlisted candidates will be contacted.