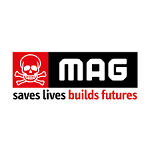 The name Mines Advisory Group was established in the early days of the organisation, when it was decided that MAG's initial role would be to draw the attention of the international community towards issues relating to mines and UXO.
About the role:
This is an exciting opportunity to join our team and play a key role in the development of our Nigeria programme and the Lake Chad Basin sub-region. Reporting to the Project Manager and the Regional Programmes Manager, the Programme Officer will provide support to grant management, administration and monitoring, business development, context analysis, and representation as directed by the Lake Chad Basin Projects Manager and Regional Programmes Manager. You will have a key role in coordinating with both colleagues in MAG's Manchester office and MAG's Regional staff in West Africa, in regards to reporting deadlines, data compilation and overall business development strategy. The role involves frequent travels between Abuja, Maiduguri and N'Djamena.
About you:
The successful candidate will need experience working in international aid or development, ideally overseas in a conflict / post conflict environment and be able to demonstrate the ability to work independently with minimum supervision. The ability to work in dynamic teams of national and international staff and produce written material of the highest quality is essential. It is also important that candidate is self-motivated, flexible and has an enthusiastic approach to work. The successful candidate should also have experience leading on the coordination and writing of reports and leading on proposal development for a range of institutional donors and have excellent literacy, numeracy and IT skills.
Fluency in English and advanced level in French are required.
Benefits:
MAG staff are rewarded with generous benefits:
Salary: The starting salary package for this position is £36,796 per annum including all allowances and this increases with service.
Accommodation: MAG will provide accommodation in-country.
Leave: We recognise our staff work hard and need the appropriate time out to stay motivated. You'll have a minimum of eight weeks out of the programme per year
Flights: MAG provides three international flights home per year
Insurance: All international staff are automatically covered by MAG's comprehensive insurance package including: Personal accident and medical expenses insurance; Death by natural causes insurance and access to 24-hour medical assistance including evacuation and repatriation.
Method of Application
For further information about this opportunity, as well as the application form, please download the candidate information pack, below:
MAG – Programme Officer, Nigeria Candidate Information Pack
Please return the Application form to [email protected] by the closing date of 15th November 2022. Due to the high volume of applications that we receive, we are not able to respond to every application. If you have not heard back from us within 3 weeks of applying, it means that your application has not been successful.