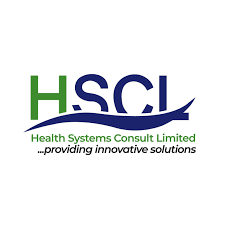 Health Systems Consult Limited (HSCL) is a public health and development consulting firm established by a team with extensive experience in international development and public health programming. We provide technical assistance for health system reforms towards access to cost-effective and quality health care across Nigeria and the continent of Africa. With a network of over 50 global partners and consultants, we develop programmes and provide sustainable solutions for a broad spectrum of health and development challenges.
HSCL is registered with the Nigerian Corporate Affairs Commission (2009), the Tanzanian Registry of Companies (2014), the Office of Administration and registration in Sierra Leone (2015) and the Office of the Registration of Companies in Zambia (2016). HSCL has established offices in Nigeria, Tanzania and Sierra Leone and has also done work in several African countries including Cameroun, Gambia, Ghana, Guinea, Kenya, Mauritius, Liberia, Sierra Leone, Uganda, and Zanzibar. In Nigeria, HSCL with it's headquarters in Abuja, has offices in Abia, Akwa-Ibom, Borno, FCT, Kaduna, Kebbi, Lagos, Niger, Sokoto and Zamfara states.
We are recruiting to fill the position below:
Job Title: Monitoring & Evaluation Officer
Location: Zamfara
Division/Department: M&E
Reporting: State Team Lead
Type:  Full time/Non-exempt
Project Background
In collaboration with the Government of Nigeria (GoN), PEPFAR/USAID investments have led to the achievement of significant progress in the fight against the HIV epidemic in Kebbi, Sokoto, and Zamfara. However, the 2018 Nigeria HIV/AIDS Indicator and Impact Survey (NAIIS) showed that epidemic control targets are yet to be achieved. Further, this progress is threatened by development challenges: limited financial resources, insufficient use of data for decision making, weak coordination mechanism across all levels of government and insecurity.
The Accelerating Control of HIV Epidemic (ACE) project provides USAID with the opportunity to support the GoN, civil society groups, and private sector actors in the cluster 3 focus states to close gaps in reaching control targets, address critical challenges in implementing their HIV response and accelerate progress towards sustainable epidemic control.
Job Summary
The M&E Officer, under the supervision of the State Team Lead, and with technical oversight from the Senior MEL Advisor, is responsible for the implementation of monitoring and evaluation activities for the state office. The M&E Officer will work with others in the state office and local implementing partners to ensure that state monitoring and evaluation activities are appropriate and meet the donor and project's M&E needs.
Key Responsibilities
Provide oversight for Strategic Information (SI) processes for the project
Provide technical support on SI and evidence-based recommendations to project stakeholders
Lead research, evaluation, and data management processes.
Lead the technical team in the use of electronic health tools and applications including iHRIS, Open Data Kit, CSPro, etc.
Conduct routine data management including data collection, collation, analysis, and reporting.
Conduct data quality assurance and control and other data management processes.
Design of M&E framework and tools for project
Take on an active role in the monitoring and evaluation of the project, provide progress updates of various project components to the team, regularly update relevant monitoring indicators of the project based on the project data and study outcomes, prepare periodic reports, use data generated by the project to strengthen the data collection methods.
Carry out any other tasks assigned in pursuance of the organization's objectives or as assigned by the supervisors.
Education and/or Work Experience Requirements
A Master's Degree in Public Health, Biostatistics, Biological Sciences, Sociology, or a related field. Training in M&E will be an advantage.
Minimum of 5 years' experience with complex donor funded health projects, including 5 years in an M&E role.
Desired competencies:
Experience in implementing USAID grant
Strong knowledge of, and experience with various reporting requirements, and data platforms (DHIS2).
Experience with evaluation and research design, data collection and analysis, indicator construction, and geospatial applications.
Health Systems Strengthening – have some work experience across some of the health systems building blocks: Health Information Systems Health Financing, Service Delivery (HIV/AIDS, TB, Malaria), Human Resources for Health
Proven experience in stakeholder management including the ability to engage in technical and policy discussions with representatives of government and other development partners.
In-depth knowledge of the Nigerian healthcare system and key health system actors.
Demonstrable strong oral and written communication skills.
Proficiency in Microsoft Office Suite and one or more of the following statistical software: SPSS, Stata, SAS and/or R.
Excellent time management skills and outstanding work ethic.
Excellent organization and interpersonal skills.
Consistently approach work with energy and a positive, constructive attitude.
Demonstrate openness to change and an ability to manage complexities in a fast-paced environment.
Application Closing Date
25th November, 2022.
Method of Application
Interested and qualified candidates should send their Cover Letter (no more than a page) and an updated CV in one document to: [email protected] using the Job Title as the subject of the email.