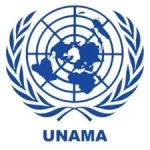 Closing date: Monday, 20 March 2023
General
Description of assignment title
Local Security Assistant
Assignment country
Afghanistan
Expected start date
02/04/2023
Sustainable Development Goal
16. Peace, justice and strong institutions
Volunteer category
National UN Volunteer Specialist
DoA reserved for persons with disabilities
No
Host entity
UNAMA
Type
Onsite
Duration
9 months (with possibility of extension)
Number of assignments
2
Duty stations
Kabul (2)
Details
Mission and objectives
UNAMA was established in 2002 as a Political/ Peacebuilding Mission, exceptionally) directed and supported by the UN Department of Peacekeeping Operations (DPKO).
Context
UNAMA is a political mission that provides political good offices in Afghanistan; works with and supports the government; supports the process of peace and reconciliation; monitors and promotes human rights and the protection of civilians in armed conflict; promotes good governance; and encourages regional cooperation. UNAMA was established by the UN Security Council Resolution 1401 in March 2002 at the request of the Government of the Islamic Republic of Afghanistan. Its mandate is reviewed annually with the latest mandate renewal being on 15 September 2020 when the Security Council unanimously adopted Resolution 2543 (2020) Resolution 2543 (2020) calls for UNAMA and the Secretary-General's Special Representative for Afghanistan, within their mandate and in a manner consistent with Afghan sovereignty, leadership and ownership, to continue to lead and coordinate international civilian efforts in full cooperation with the Government of Afghanistan. UNAMA maintains a permanent and extensive field presence across Afghanistan.
Task description
Under the supervision of the Principal Security Adviser (PSA) and the general management of the Deputy PSA, the Local Security Assistant assists in the implementation of security operations and all matters relating to the management of safety and security for UN personnel in the country or in the region of assignment. The National UN Volunteer will undertake the following tasks:
 Responsible for maintaining an accurate and updated log in the daily occurrences book of all reports received by the CCC;
 Assist in receiving, processing, recording, and disseminate all security-related information to the appropriate locations through approved security channels;
 Assists in the processing of the Travel Request Information Process (TRIP) requests for travelers to Afghanistan;
 Serves as the first Security Point of Contact (POC) to all UN staff requiring security assistance while on duty in the CCC;
 Ensure accurate and timely dissemination of alerts, incident reports, and flash reports;
 Maintains a 24×7 radio and telephone communications with all UN Security Radio Rooms from UN AFPs, Regional SOCs, and Security Officers, as applicable;
 Maintain all relevant maps and contact lists for key personnel, security staff, Area Security Coordinators (ASCs), Senior Management, and emergency services providers;
 Prepare a draft security situation report based on reports received at the COC and provide them to the CCC Supervisor before 0800 hours daily;
 Ensure authorization for staff travel;
 Responsible for supervising the drafting of the daily incident reporting and manages the GIS situational map plotting;
 Ensure that the contact details/communications are updated and regularly tested as required by the CCC;
 Assist in issuing Security Advisories by email or SMS in consultation with the CCC Supervisor. He/She also updates and record daily and weekly staff figures and update the staff presence map as directed;
 Coordinate with Radio Room operators and follow up on issues affecting CCC Operations;
 Compile and update Operational SOPs for the radio room and CCC;
 Assist Radio Room Supervisor in ensuring that the SMS systems are operational and functional;
 Perform any other duties as assigned by the immediate supervisor.
Eligibility criteria
Age
27 – 80
Nationality
Candidate must be a national or legal resident of the country of assignment.
Requirements
Required experience
3 years of experience in
 A minimum of 3 years of relevant experience in security operations centers or similar within the military or police or security management is required;
 Excellent interpersonal skills; culturally and socially sensitive; ability to work inclusively and collaboratively with a range of partners, including grassroots community members, religious and youth organizations, and authorities at different levels; familiarity with tools and approaches of communications for development;
 Ability to work and adapt professionally and effectively in a challenging environment; ability to work effectively in a multicultural team of international and national personnel;
Area(s) of expertise
Administration, Security and protection, Crisis and emergency response
Driving license
–
Languages
English, Level: Fluent, Required
Required education level
Bachelor degree or equivalent in Administration; Crisis and emergency response; Security and protection
Competencies and values
 Accountability;
 Adaptability and flexibility;
 Creativity;
 Judgement and decision-making;
 Planning and organizing;
 Professionalism;
 Self-management.
Other information
Living conditions and remarks
The contract lasts for the period indicated above with possibility of extensions subject to availability of funding, operational necessity and satisfactory performance. However, there is no expectation of renewal of the assignment. Travel to duty station (if applicable) and a Settling-In-Grant will be provided in the event the duty station is not within commuting distance from the place of recruitment. The applicable Volunteer Living Allowance is provided monthly to cover housing, utilities and normal cost of living expenses. Life, health and permanent disability insurance are included ) and final repatriation (if applicable). Furthermore, in non-family duty stations that belong to hardship categories D or E, as classified by the ICSC, a Well-Being Differential (WBD) on a monthly basis will be provided. For UN Volunteer entitlements, kindly refer to the link: https://vmam.unv.org/calculator/entitlements
Inclusivity statement
United Nations Volunteers is an equal opportunity programme that welcomes applications from qualified professionals. We are committed to achieving diversity in terms of gender, care protected characteristics. As part of their adherence to the values of UNV, all UN Volunteers commit themselves to combat any form of discrimination, and to promoting respect for human rights and individual dignity, without distinction of a person's race, sex, gender identity, religion, nationality, ethnic origin, sexual orientation, disability, pregnancy, age, language, social origin or other status.
Note on Covid-19 vaccination requirements
Selected candidates for certain occupational groups may be subject to inoculation (vaccination) requirements, including against SARS-CoV-2 (Covid-19) in line with the applicable host entity policy