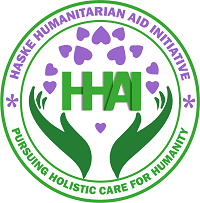 HASKE HUMANITARIAN AID INITIATIVE (HHAI) is a women and youth driven organization established in the year 2022, and since its establishment to date, the organization has striven to continuously interface and engage with key stakeholders at all level to support in addressing gaps in the health sector, improve nutrition indices, and women's agency, health, and socio-economic empowerment from the grassroot level which will provide an enabling environment and a robust healthy community. We strive for positive change in the way the community response to the health and socio-economic wellbeing of women, young adolescents, and children under 5 and to achieve an immediate and lasting change in their lives by providing the enabling environment. Across all our work, we pursue several core values: Honesty. .Accountability, ambition, professionalism
JOB TITLE: Field Volunteers (SSCE)
Location: Adamawa and Bauchi State
Slots: 2
Application Deadline: 14th November, 2022
Job Profile
In consultation with the Project Manager, the Field Volunteers (FV) will oversee sensitization, recruitment and appropriate training of Community Based Resource Persons to enhance promotion of general livelihood of target households in the Project.
RESPONSIBILITIES
The successful candidate will perform the following functions:
Mobilize Community towards project activities:
· Awareness creation on project goal, objectives and expected outputs.
· Facilitate development of community structures for managing the implementation of project activities.
· Facilitate recruitment and training of Community Based Resource Persons and Beneficiaries.
· Provide continuous re-orientation and training to Community Based Resource Persons and Beneficiaries on topical areas relevant to Financial Literacy, Village Savings & Loans, Agri-Premiership Trainings and Business Development Support project implementation.
· Facilitate identification and sensitization and training of participant Beneficiaries on areas relevant to the project.
· Provide technical support to Community Based Trainers and participating beneficiaries on Value Chain selection, planning and management and guidance in facilitating linkages to market (input and output) improvement.
Engagement with the community gatekeepers and other community structures for effective implementation
Qualifications / Experience
Experience: At least 2 years' field experience in livelihood development or financial inclusion and capacity building using participatory techniques.
Qualifications
SSCE
Diplomacy, tact and negotiating skills.
Training/coaching/mentoring/ Facilitation skills
The ability to work independently, think innovatively and strategically and work effectively within a team
Ability to speak the local language and Kiswahili
Excellent verbal and written communication skills
Ability to work under pressure and deadlines with minimal supervision
Knowledge of participatory approaches
 METHOD OF APPLICATION
Interested and qualified candidates should send : <Click https://bit.ly/3FOQfjK to apply online> OR send their CV and Cover Letter as a single PDF document to [email protected] using the job Title as the subject of the mail.
NOTE:
HHAI is an equal opportunity employer, committed to diversity as such,
women are strongly encouraged to apply
Please note that only shortlisted candidate will be contacted.