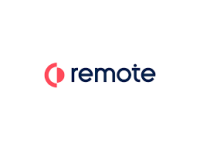 Job Description
Position : Associate Team Lead, Engineering
All of our positions are fully remote. You do not have to relocate to join us!
The Position
You'll be joining 150+ engineers across Frontend, Backend, SRE, Data and QA. We're organised into cross-functional development teams assigned to a specific area of our product.
Your team will be working on building tools, APIs and integrations for our platform. Our backend is built with Elixir and Phoenix, with a Postgres database. We use Typescript, React and Nextjs for our front-end. Gitlab is used as version control tool and CI/CD solution. Our applications are hosted on AWS. We fully rely on our CI for deployments and deploy multiple times per day.
As an Associate Team Leader at Remote we expect you to spend around 70% of your time hands on coding, and 30% leading the team. You will work closely with your Engineering Manager who will support you in managing and guiding the team to success.
What this job can offer you
Leading a distributed team of backend and frontend engineers. You can trust them to take ownership of their daily tasks and challenges as you work closely with the Product Manager and stakeholders on the product roadmap and defining the problems to solve.
Complex and meaningful challenges — solving them will enable people and businesses to live and operate in any country of the world.
Opportunity to have a significant impact on the business — we are still very early in our journey as a company, and each change you make today is amplified by the company's growth.
A lot of freedom to organize your work and life — you are not bound to daily standups or other ceremonies. We expect you to have regular 1:1s with your team members, but you can organize them around your schedule.
A supportive and kind work environment where you can grow and challenge yourself to do your best work.
Pragmatic and product-focused Engineering culture — read more about our practices and work ethic.
Competitive salary, stock options, unlimited PTO, a generous learning budget, and a set of other perks and benefits.
Required profile for job ad : Associate Team Lead, Engineering
What you bring
Good understanding of team dynamics, coaching, and mentoring
Significant experience as an Engineer, which includes building, shipping and maintaining a complex software project
Solid knowledge and experience in either backend (Elixir and Postgres ) or frontend (Javascript, React) technologies.
Experience in dealing with ambiguity, working together with stakeholders on taking abstract concepts and turning them into working software
Strong ability to work independently and self-guided
Great communication, project management skills and ability to lead technical discussions
Curiosity and willingness to learn and develop
Practicals
You'll report to: Engineering Manager
Direct reports: 2-5 Engineers
Team: Engineering
Location: Anywhere
Start date: As soon as possible
Job criteria for job ad : Associate Team Lead, Engineering
Job category :

IT, new technologies

Management

Industries :

IT, software engineering, Internet

Employment type :

Permanent contract – Fixed-term contract

Region :

Ashanti – Brong Ahafo – Central – Eastern – Greater Accra – Northern – Upper East – Upper West – Volta – Western – International

Experience level :
Educational level :
Key Skills :