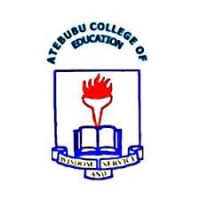 Company: Atebubu College of Education
Location: Ghana
State: Ghana
Job type: 

Full-Time

Job category: Accounting Jobs in Ghana
Job Description
The Council of Atebubu College of Education, Atebubu, in the Bono East Region announces that the following positions in the College:
Finance Officer, are vacant, and therefore invites suitably qualified applicants for consideration.
Responsibilities and Duties
The Finance Officer is the Chief Accounting Officer of the College and Chief Financial Advisor to the Principal.
• He/she has general responsibility for the administration of the financial affairs of the College that will ensure its financial health and he/she exercises direct supervision over all accounting officers.
• He/She is responsible for collecting all legitimate revenue due the College.
• The Finance Officer shall exercise control over expenditure in line with the College's objective and budgets.
• He/She has the duty of preparing the annual budget of the College for presentation to the appropriate governing body for approval and implementation.
• The Finance Officer is also responsible for ensuring that the financial statements of the College are drawn up in accordance with the law establishing the Colleges, the Statues, applicable accounting standards and all other Regulations approved by the Colleges as well as all other national laws; and liaises with the appointed external auditors to get the College's financial statements audited.
• Periodically present the state of affairs of the finances of the College to the Council as required
Qualification Required & Experience
• Applicant must possess a Master's Degree in the relevant subject area and a professional qualification/membership
• He/She must have served as Deputy Finance Officer in a College of Education or comparable grade in a similar
institution/organisation for at least four (4) years.
• In addition, applicant must be analytical, critical, result oriented, innovative and visionary among others.
• Possess hands on ability to work independently.
• Be able to work under pressure to meet deadlines.
• Possess strong IT skills and familiarity with accounting software applications.
• Possess excellent communication, interpersonal and supervisory skills.
• He/She should be a member of a recognised professional accountancy body
• Be able to implement policies relating to accounting and financial control in the College
• Be a good team players
Location: Bono East Region
How To Apply For The Job
Interested persons applying for any of the positions should attach the under listed to their application letters.
• Eight (8) copies of current Curriculum Vitae (CV)
• Eight (8) photocopies of all relevant Certificates (the original shall be inspected at the interview).
• Sealed letters of recommendation from two (2) referees.
• Eight (8) copies of a two-page type-written statement of your hopes and aspirations for the College and how you would help to achieve them.
All applications must reach the following address by EMS at or before 5.00 p. m. on Friday, 14th APRIL 2023.
THE CHAIR OF SEARCH COMMITTEE OF
ATEBUBU COLLEGE OF EDUCATION
DEAN'S OFFICE
FACULTY OF ELECTRICAL AND
COMPUTER ENGINEEREING
KNUST
PMB UPO
KUMASI
Closing Date: 27 October, 2023
Applicants should note that only shortlisted applicants will be contacted.